Minimumwage.cafe
The intention of this campaign is to publicise the minimum wage to employees of Australian cafes and restaurants, and to motivate employers to respect it.
The purpose of the minimum wage is to protect everyone from poverty. The kind we see elsewhere in the world today, and as seen in Australia just 80 years ago. If you think the minimum wage should be repealed then let's have that debate, but until then, we call on all employers to respect Federal Law and the Modern Award Restaurant Industry Award (MA000119)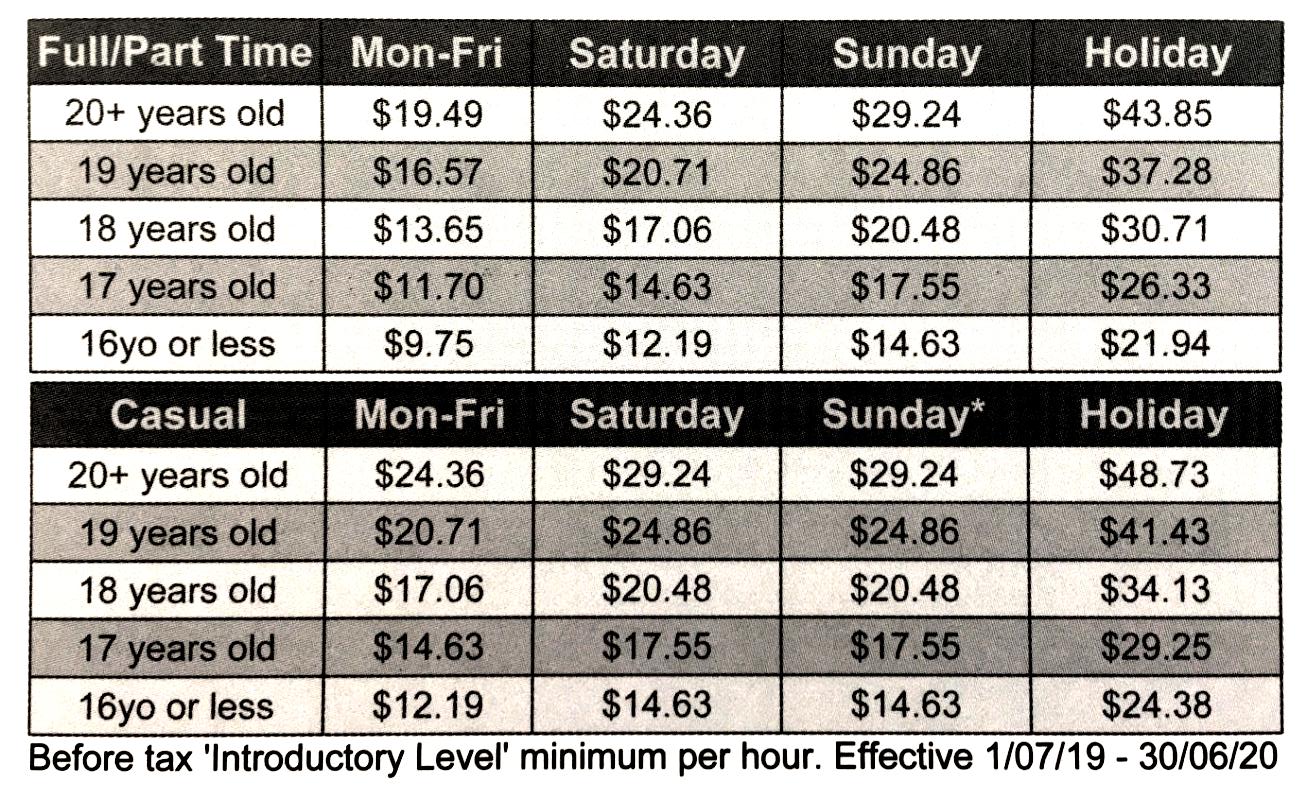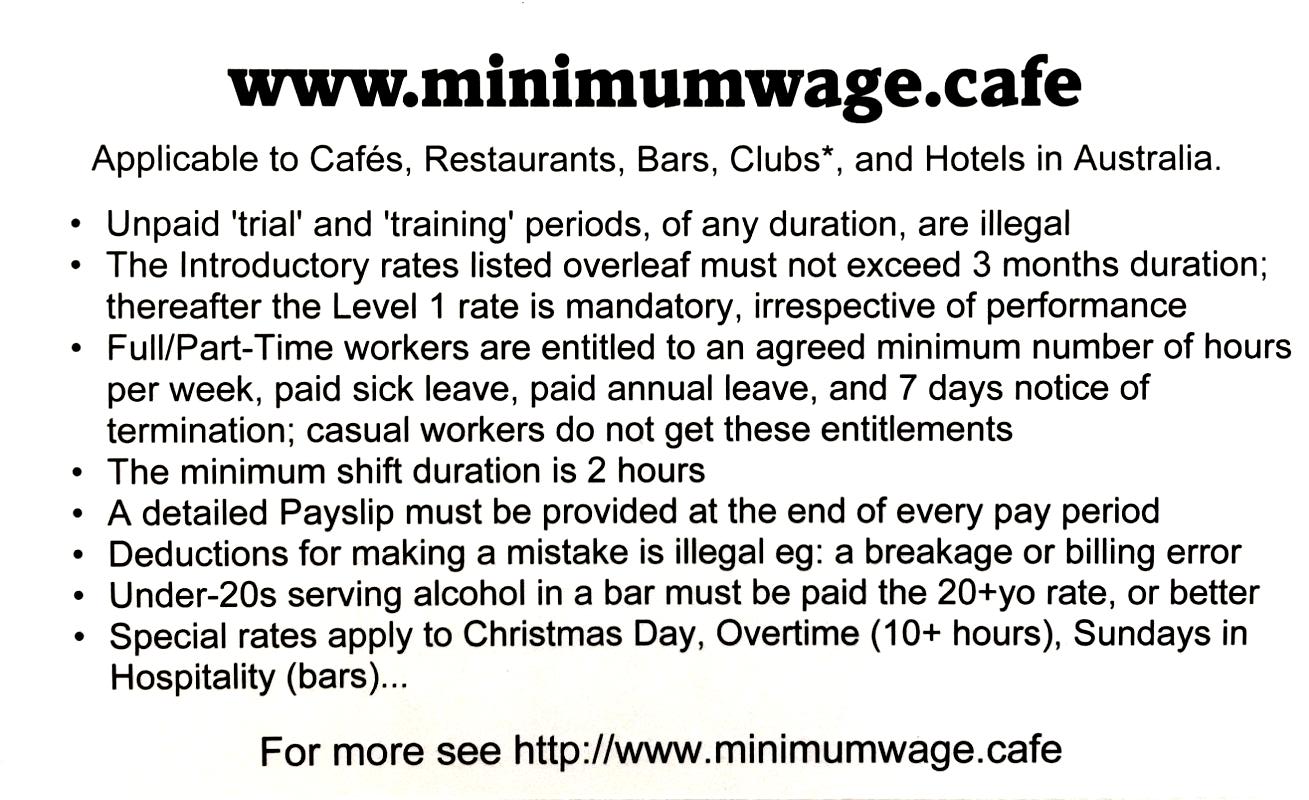 Do I qualify for the minimum wage?
The "Restaurant Industry Award" (MA000119) applies to all café and restaurant workers in Australia, irrespective of state.
You do not need to complete an application to get the minimum wage; you are automatically covered by this award the moment you start work in a cafe or restaurant.
You do not need to be an Australian citizenship; these rates apply to everyone, irrespective of nationality or visa status.
Even if you are working in violation of your visa restrictions the minimum wages still apply.
Do I get paid for "trial" or "training" shifts?
It is illegal for an employer to ask you to work for free, or at a reduced rate, to train, or evaluate your ability to do the work. All time at work is payable at, or above, the minimum rates determined by law, including time evaluating your ability to do a task. The 'Introductory Rates' cited on this website are already slightly reduced for that purpose and have a maximum term of 3 months. After three months, the rate must be raised slightly (~50c/hr) to full Level 1 payments. For example:
What is the minimum wage in an Australian Cafe?
The minimum legal pay for an "Introductory Level" casual cafe employee, more than 19 years old, in Australia is, in 2019:
$24.36 per hour from Monday to Friday
$29.24 per hour on Saturday and Sunday
$48.73 per hour on Public Holidays
when 19 years old: $20.71 Monday to Friday and $24.86 on Saturday and Sunday
when 18 years old: $17.06 Monday to Friday and $20.48 on Saturday and Sunday
when 17 years old: $14.63 Monday to Friday and $17.55 on Saturday and Sunday
when under 17 years old: $12.19 Monday to Friday and $14.63 on Saturday and Sunday
It is against the law to keep you at this "Introductory Level" for more than 3 months. After three months you become a "Level 1" employee and paid at least $25.08 (Mon-Fri) and $30.09 (Weekends).
These rates apply between 1 July 2019 and 30 June 2020. Rates are revised every year. Revised rates come into effect on the 1st of July each year.
You can download the complete schedule of rates from Fair Work Australia
Please contact me with your questions or story.
Email me at minimumwage.cafe@johnmee.com, or call John on 0403 998 333
Anonymous statistics, and specific identifiable examples, are essential to demonstrate to people who can effect change (eg politicians) where the law is failing and what might be done to fix it.
Am I a "casual", "part-time", or "full-time" employee?
Part/Full time employees are paid 25% less than casual employees because they have 'reliable income'. They have a routine position on the roster and steady number of hours each week, they get paid when they are sick, they can take days off with pay, and other entitlements.
If do you not receive all of these entitlements you are a casual employee and should be paid the casual rate. Do you:
get paid when you can't work a shift due to illness, and
get paid when you take a day off (with notice), and
expect 7 days notice, or payment in lieu, when your employment ends?
If any one of these do not apply then you are a casual employee. If you are getting the 'permanent', or lesser full/part time rate, then use your entitlements: call in sick when you are sick, take some time off with pay, secure in the knowledge you can still pay your bills.

If you do get sick pay, and holiday pay, and have an agreed minimum number of hours per week, and a relatively predictable schedule, and get a weeks notice before termination, and more, then you are paid 25% less than the casual employees because of these benefits.

The minimum rate for part-time and full-time employees (monday to friday) is $18.93
You can download the complete schedule of rates from Fair Work Australia

You cannot alternate between casual and part-time employment on a monthly or weekly basis; you are one, or the other. After 12 months as a casual employee you are entitled to request a full, or part-time position, and that request cannot be unreasonably refused. See Right to request casual conversion
What work do I do for the minimum wage?
An Introductory and Level 1 Food and Beverage Attendant must perform these tasks:
setting up and wiping down tables
removing plates
picking up glasses
cleaning and tidying
receiving money from customers
helping other employees
A Level 2 Food and Beverage Attendant does all the Level 1 duties and also:
taking reservations, greeting and seating guests
receiving deliveries, and/or assisting in the cellar
attending a snack bar
preparing alcoholic drinks
A Level 3 Food and Beverage Attendant does all the Level 2 duties and also:
train or supervise the employees of Level 2, Level 1, and Introductory Level.
If you 'cover' additional duties for more than two hours, you are entitled the rate of pay of the person you covered. If you cover for someone below your normal level, you are still entitled to your normal pay rate.
You can learn more about the duties of each level and pay rate in Schedule B—Classification Structure and Definitions of award MA000119. There are duties listed for Kitchen Staff, Clerical staff, Storemen and women, Security personnel, and Maintenance staff, and all of their levels.
Will I lose my job if I ask for the minimum wage?
Although it is illegal, the reality may be when you discuss the minimum wage with your boss they will decide they don't need you anymore.
This is a way to keep your job and get what you are owed:
Don't say anything; keep working your job and receiving less than the mimimum wage
Write down the times and dates of every shift you work
Write down

the name of the business owner, and phone number if you have it.
the name of the business, street and/or postal address, and phone numbers,
the "Australian Business Number" (ABN), if you can find it. It should be on display on the premises, or on your payslip, but often is not, so you might have to copy it down from some paperwork lying around the business. You don't absolutely need it, but it helps.

When your job ends, present all this written data to the employer and ask for the difference between your actual pay and the mimimum wage as a lump sum. Keep a copy for yourself.
If the employer refuses to correctly pay you, request help from the Fair Work Ombudsman
We can help you submit your request to the Fair Work Ombudsman. Contact me. We are free, voluntary, and we have no intent to profit from you. It may take some time (three months), but we have always had success getting paid your minimum entitlements. You can still receive your payment even if you have left the country.
I came to work, but my shift was canceled because it was quiet.
The minimum shift length is two hours. You must be paid for a minimum of two hours whenever you show up to a scheduled shift.
My employer deducted some money from my pay?
Your employer must not financially penalise you for mistakes that you make during the normal course of your work. For example:
If you accidentally break anything whilst working, a plate, glass, cup, cutlery, it is illegal to make you pay for it.
If you accidentally charge a customer the wrong amount, it is illegal to make you pay the difference.
Wage substitutes in the form of food can be refused. They are almost always illegal; to be legal the substitution must very plainly leave the employee better-off-overall.
Resources
For Employees
For Employers
The Honor Roll
Hall of Confession
Woolworths (Wesfarmers)

Super Retail Group (Supercheap Auto, Rebel Sports, BCF, Macpac, Rays)

Michael Hill Jewellers

Wesfarmers

Bunnings (Wesfarmers)

Lush Cosmetics

Australian Broadcasting Corporation

Breadtop Bakery franchises
Hall of Shame
Domino's Pizza

7-Eleven

Celebrity Chef George Calombaris

Subway Franchise

Coffee Club

Tokyo Sushi/Sushi Blitz

Gloria Jeans Coffee

Degani Cafe Melbourne

Cafe 63 Chermside Brisbane

Caltex

Chartime Tea

Baking Small Businesses, Bakers Delight franchisee (Central Coast NSW)

W.X.Z. Noodles (Dubbo, Wagga, Orange, Bundaberg)

Crust Pizza

La Porchetta Pizza

Sushi bar in Cairns QLD

Sunglass Hut
Who are you, and why do you care?
Some years ago, I had a 'working from home' computer job, but found it a bit lonely so I thought I could get some 'people-time' by working in a coffee shop in the morning, then do my 'real job' in the afternoon. I also like to think that, when times get tough, I can at least survive on minimum wage jobs, like in a cafe or restaurant.
I applied to the local "Gloria Jeans" coffee shop and didn't think anything of it when the manager told me my pay and that I could start right away. When I received my first cheque I noticed my "age" was recorded as "17 years old". I rang to correct the error. With some exasperation they told me that I'd been informed of the rate of pay at the interview, and that I'd agreed to the pay! I had naively assumed that they would not offer me a pay rate below the legal minimum. I asked for a legal wage and was told that, in that case, they "had no shifts for me". I took a complaint to the Ombudsman and, at length, received my legal entitlement for the week worked.
Even further back, I answered an ad for store packers by 'Franklins Big Fresh' in Warringah Mall Sydney. It quickly became apparent that the types of people they wanted were the disadvantaged: the advertised wages and hours were never honored, and a large chunk of the initial intake simply dropped out in protest. So what was left were the people without better options: poor english, physical/mental disabilities, drug habits, criminal records, and alternative appearance and lifestylers. Over a period of four months the wage packets shrank, intimidation increased, and the shift morphed into midnight till dawn.
In that job I never saw a payslip and simply received an envelope containing cash with my name handwritten on it. There was no way of knowing what hours the pay was for, at what rate, or how much tax was taken, super, etc. My requests for these details were ignored and each time I asked I found myself rostered for less shifts. I was never 'sacked', but transitioned to not even making the roster. Thus I had to ring and ask for shifts each week. Ultimately, there were none available when I did -'try again next week. Haha.'. I got the message.
Unfortunately, in these cases, I was unable to assist my co-workers because the law requires every individual to raise their own complaint. They were not capable of the paperwork, or too afraid: of losing their job, their visa. It was universal for non-citizens to fear expulsion from the country if they made any fuss.
Since that time I've often asked my local waiter or cafe attendant what rate they're getting paid. Rarely has any worker been able to tell me the correct legal minimum rate. Often they have revealed that they are receiving less than the minimum rate. I fear this is widespread and has, as we have seen in the media, become a normal and conscious violation of small and large businesses alike.